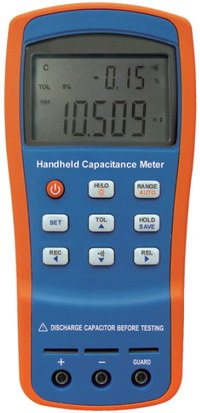 ﹛
﹛
﹛
﹛
Features:
← Measurement accuracy up to 0.5%
← Gorgeous dual-color cast shell
← Dual-display LCD with backlight
← 4 1/2 digits display, maximum readings up to 11,000
← Measurement range from 0.1pF to 199.99mF
← Constant current charge/discharge test method
← Auto/Manual range selection
← 25 sets of HI/LO limit comparison setup
← 4 tolerance comparator modes: 1%,5%,10%,20%
← Relative function
← Data hold and Max/Min/Average statistic functions
← Overload fuse protection function on input terminal
← Low power consumption, typical working current: 6.5mA
← Standard Mini-USB communication interface, SCPI commands compliant
← Download FastGet PC communication software freely
Standard Accessories:
SR26004F Banana plugs - crocodile clip test leads
Options Accessories:
SR26029C SMD 4-terminal Kelvin test tweezers
SR26027A 4-terminal Kelvin clip test leads
SR26028 AC Adapter
Mini-USB Communication Cable
SR2622 Handheld Capacitance Meter (Equivalent to Agilent U1701B)
Brief Introduction:
We have extended the handheld meter to a professional wide-range capacitance test. SR2622 handheld capacitance meter adopts ultra-low consumption design and high density SMD technology. Its measurement range can be automatically switched. The capacitance measurement range is up to 199.99mF, maximum reading 11,000. Gorgeously once molded dual-color shell, dual-display LCD screen and easy operation are the characteristics of the meter. With USB communication interface, SR2622 can conveniently make data communication with PC and realize remote control. In order to meet the increasing test requirements for SMD, we provides optional SR26029C SMD test tweezers.
Specifications:
Measurement function

Measurement parameters

Capacitance (C)

Range

0.1pF to 199.99mF (Auto/Manual)

Measurement terminal

3-terminal

Tolerance mode

1%, 5%, 10%, 20%

Test input fuse

0.3A/220V fuse

Communication interface

Mini-USB (Virtual serial)

Display

Display screen

LCD dual-display

Backlight mode

Menu setup

Reading

4 1/2 digits display,

maximum reading: 11,000

Max. measurement accuracy

0.5% (refer to accuracy specifications)

Min. resolution of primary parameter

Refer to accuracy specifications

Power supply

Battery model

IEC 6LR61, 9V alkaline battery

AC power adapter

Input: 220V (1㊣10%), 50Hz(1㊣5%);

Output: 12V-15V DC

Working current

Max: 6.5mA

Standby current

Max: 2米A

Battery life

70 Hours (typical) without backlight and based on new alkaline

Auto Power off

(only for battery mode)

0 to 99 min; factory default:15min

Low Voltage indicator

When battery voltage drops below 6V, low voltage indicator turns on

General specifications

Working temperature

0∼C~40∼C

Working humidity

≒ 90% R.H.

Weight

360g (including built-in battery)

Dimensions (W*H*D)

190mm*90mm*41mm

Safety and EMC

IEC 61010-1:2001; IEC 61326-2-1:2005
Accuracy Specifications:
Range

Resolution

Accuracy * 2

Measurement rate of full scale(approximation)

1000.0pF

0.1pF

1%+10

5 time/s

10.000nF

0.001nF

1%+5

5 time/s

100.00nF

0.01nF

0.5%+3

5 time/s

1000.0nF

0.1nF

5 time/s

10.000uF

0.001米F

5 time/s

100.00uF

0.01米F

5 time/s

1000.0uF

0.1米F

0.86 time/s

10.000mF

0.001m F

1%+5

0.13 time/s

199.99mF

0.01m F

2%+5

0.006 time/s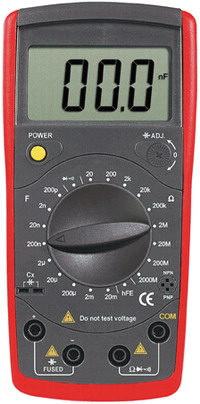 SRT601 Modern Inductance Capacitance Meters
SPECIFICATIONS
Basic Functions

Range

Best Accuracy

Resistance

20次/200次/2k次/20k次/200k次/

2M次/20M次/200M次/2000M次

㊣(0.8%+1)

Capacitance

200pF/2nF/20nF/200nF/2µF/20µF/

200µF/2mF/20mF

㊣(0.5%+10)

Special Functions

Diode

Yes

Continuity Buzzer

Yes

Transistor

Yes

Low Battery Display

Yes

Max. Display

1999

Yes
GENERAL CHARACTERISTICS
| | |
| --- | --- |
| Power | 9V Battery (6F22) |
| LCD Size | 61 * 32 mm |
| Product Colour | Grey Holster-Red |
| Product Net Weight | 310g |
| Product Size | 172 * 83 * 38mm |
| Standard Accessories | Test Clip, Battery, English Manual, Holster |
| Standard Individual Packing | Gift Box |
| Standard Quantity Per Carton | 40 pcs |
| Standard Carton Measurement | 598 * 418 * 340mm (0.085CBM Per Standard Carton) |
| Standard Carton Gross Weight | 21kg |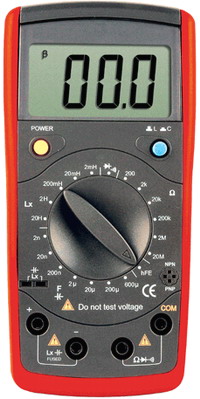 ﹛

SRT603 Modern Inductance Capacitance Meters

SPECIFICATIONS
| Basic Functions | Range | Best Accuracy |
| --- | --- | --- |
| Resistance | 200次/2k次/20k次/200k次/2M次/20M次 | ㊣(0.8%+1) |
| Capacitance | 2nF/20nF/200nF/2mF/20mF/200mF/600mF | ㊣(1%+5) |
| Inductance | 2mH/20mH/200mH/2H/20H | ㊣(2%+8) |
| Special Functions | | |
| Diode | | Yes |
| Continuity Buzzer | | Yes |
| Transistor | | Yes |
| Low Battery Display | | Yes |
| Max. Display | 1999 | |
GENERAL CHARACTERISTICS
| | |
| --- | --- |
| Power | 9V Battery (6F22) |
| LCD Size | 61 * 32 mm |
| Product Colour | Grey Holster-Red |
| Product Net Weight | 310g |
| Product Size | 172 * 83 * 38mm |
| Standard Accessories | Test Clip, Battery, English Manual, Holster |
| Standard Individual Packing | Gift Box |
| Standard Quantity Per Carton | 40 pcs |
| Standard Carton Measurement | 598 * 418 * 340mm (0.085CBM Per Standard Carton) |
| Standard Carton Gross Weight | 21kg |