SRE100 5-in-1 Multifunctional Environment Meter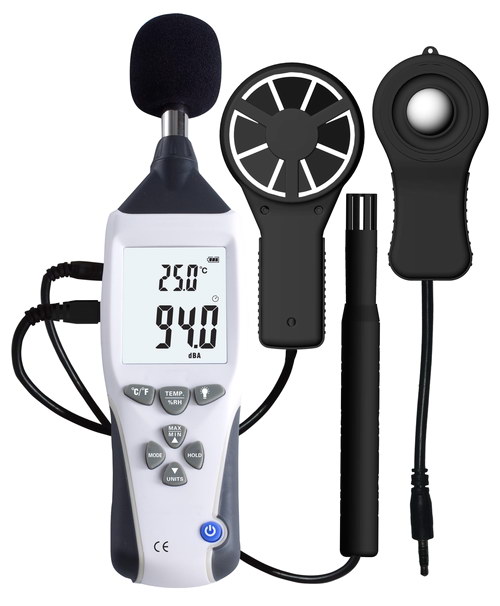 This multifunctional environment meter is designed to combine the function of Sound Level Meter, Light Meter, Anemometer, Temperature and Humidity Meters. It is widely used in quality control and health prevention in various occasions, like constructions, factories, schools, etc.
Specifications:
5-in-1 for light meter, sound level meter, humidity/temperature meter, anemometer
Large backlit LCD display
Data hold and maximum hold
Over-range indication
Low battery indication
Total accuracy: for CIE standard illuminate A (2856K)
Conform to IEC61672-1 CLASS2 for Sound Level Meter
MAX/MIN record
HOLD function
Overrange indication
Auto Power OFF
Power Supply: 9V battery
¡¡
Technical data:
Light:
0 to 200k lux (0 to 20kFc) with accuracy of ¡À3%rdg ¡À0.5%fs
Sound level:
30 to 130dB A time weighting 31.5Hz to 8KHz with accuracy of ¡À1.5dB,
Dynamic range: 50dB
Sampling rate: 2 times/sec
Microphonef: 1/2 inch electret condenser
Humidity:
0 to 100% RH with accuracy of ¡À5% RH
Temperature:
-40 to 70¡ãC (-40 to 158¡ãF) with accuracy of ¡À1.5¡ãC (¡À2.4¡ãF) ¡À(3% +0.3d)
Air Velocity:
0.5 to 30.0m/s, 1.8 to 108.0kph, 98 to 5905ft/min, 0.9 to 58.3 knots, 1.1 to 97.0mph with accuracy of ¡À(3%r+0.3d)
Resolution: 0.1
Dimension: Meter-260.5*66*32.8mm
Weight: Approx.575g
¡¡
Packing:
Individual Box Dimension: 357*90*290mm
Individual Box G.W.: 1550g
PCS/CTN 5pcs/inner carton;10pcs/outer carton
Carton Dimension: 76*49*34cm (outer carton), 47*37*31.5cm(inner carton)
Carton Gross Weight 17.5KG
¡¡
Accessories:
User's Manual, Light Meter Probe, Anemometer Probe, Humidity and Temp Meter Probe, USB Cable, Screw-driver, Battery,
Adaptor( Optional), Tripod (Optional), Carrying Case with gift box.