Stroboscope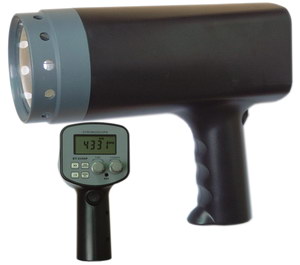 Applications:
The Stroboscope is capable to provide image of single, two or multiple stillness for the vibration object, rapidly rolling object or a periodic motion object,and can also use to observe the movement tracks.
Features:
* Digital display gives exact reading with no guessing or errors; Wide measuring range and high resolution.
* Automatic stop flashing to save electricity and improve flash tube lifetime.
* Internal / external triggering fast conversion; x2 and ‖2 button for fast adjustment.
* Use photoelectric signal while external triggering, achieve automatic tracking function of the pattern.
* Use microcomputer technology, emerging technologies, anti-jamming technique and other advanced technology, it can measure the rotative velocity without contacting the object.
Specification

Model

DT2350AP

DT2350BP

DT2350CP

DT2350DP

DT2350EP

Measurement Range (FPM)

50-12,000

50-40,000

50-20,000

50-30,000

50-20,00

Accuracy

\(0.05%n+1d)

2 ranges

H, L (High, Low)

Flash Adjust

Coarse adjustment, fine adjustment, x2 and ‖2 for fast check

Flash Tube Lifetime

Million times

Resolution

0.1/1

Triggering Mode

Interior /Exterior

Power Supply

AC220V

Default

AC110V

Optional

Dimensions

215X85X180mm

Weight

1000g

Standard Delivery

Main unit

1

Carrying case

1

Instruction manual

1

Optional Accessories

Rechargeable battery only for DT-2350AP, DT-2350EP

Flash tube
Note: Model DT2350E is specially designed for Printing and Textile industry.
DT2240B Stroboscope

This tachometer is used the microcomputer
(CPU) technique, photoelectrical technique
and LCD for one instrument combine PHOTO TACH & MOTION & SURFACE MAR.
Large LCD display with backlight
Digital control adjust flash frequency
Low power consumption

Display: 4 digits LCD display with backlight
Measure range: 60~39,999RPM
Coarse/Fine adjust amplitude:
  <1,000RPM Coarse adjust: \10RPM
       Fine adjust: \0.1RPM
 −1,000RPM Coarse adjust: \100RPM
       Fine adjust: \1RPM
Accuracy: \0.05%
Resolution: <1,000RPM: 0.1RPM
      −1,000RPM: 1RPM
10 commonly functions for rotational speed storage,
improves the efficiency of measurement. The intensity
of flashlight is increased 100% than DT2239B.
Battery: 4x1.5V AA battery

 

 
( If you need user manual or E-catalogue for above meters, please ask for at: xiushunjie@163.com )