กก
Tintometer/Lovibond Tintometer
WSL-2 Tintometer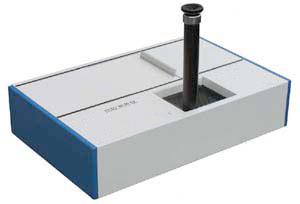 Summary of functions:
WSL-2 Tintometer (Lovibond Tintometer) It is a kind of visual color measuring instrument, which adopts an internationally-accepted special-purpose color patch (Lovibond Color Patch) to scale chroma of liquid, colloid, solid and powder. With its simplified structure and easy operation, this tintometer is often applied to measuring color of different substances (such as grease, paint, plastic, jam, textile, foodstuff, etc.).
Lovibond color patch is a special chroma unit and an extremely simple but quite perfect digital color language. Therefore, with its simple and direct operations, users can easily measure and master different color patches. Lovibond tintometer has been already accepted by many countries and is increasingly applied to various fields.
Specification:
Model

WSL-2

Measuring range

Red R0.1-R79.9 Lovibond unit

Yellow Y0.1-Y79.9 Lovibond unit

Blue B0.1-B49.9 Lovibond unit

Neutral N0.1-N3.9 Lovibond unit

Minimum readout

0.1 Lovibond unit

Enclosure

10mm/25.4mm/133.4mm

Whiteboard Reflectivity

>80%

Quality (Net)

10 Kg
กก
( If you need user manual or E-catalogue for above meters, please ask for at: xiushunjie@gmail.com )