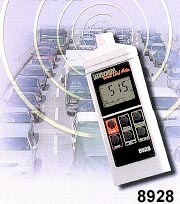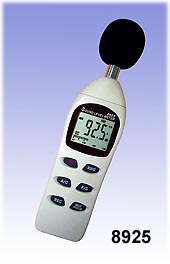 AZ8928 / 8925 AT A GLANCE
-DIGITAL DISPLAY WITH ANALOG GRAPH
-AUTO / MANUAL RANGING
-MAX HOLD, F/ S RESPONSE, A/ C WEIGHTING
-ANALOG OUTPUT

FEATURE
-Digital display of sound level.
-Measurement frequency ranging 300 Hz to 8000 Hz.
-A & C weighting selectable.
-Quasi-Analog bar indicator : 1 dB display steps, 50dB display range, updated every 40ms.
-Auto or Manual ranging selectable.
-Fast & Slow response selectable.
-Maximum hold.
-Record Max./ Min.
-Microphone : 6mm (Dia.) electric condenser type.
-Large 3-1/2 digit LCD display.
-Auto power off : 20 min after non-operation.
-Low battery indicator.
-Monitor the sound levels from traffic noise, alarm systems and workplace machinery.
¡¡
SPECIFICATION
-Range: A weighting : 40dB~130dB C weighting : 45dB~130dB
-Accuracy at 94 dB,1KHz : ¡À2dB
-Analog Output : AC 0.707Vrms (F/ S)
-Operation Temperature : 0~50ºC, 10~90%RH.
-Storage Temperature : -20~60ºC
-Quasi-Analog Bar indicator : 1dB display step, 30dB display range, updated every 50ms
-Hold : Max./ Min.
-Record : Maximum Hold.
-Microphone : 10mm Dia. electric condenser microphone
-Battery life : 30 hours typical (9V)
Meter size : 72 x 182 x 30mm / 150g.(8928) 57 x 230 x 44mm (8925)

Standard accessories:
-Manual, 9V battery (8928) AAA battery (8925) and Gift or White box package.
-Option accessory PU pouch (8928 only).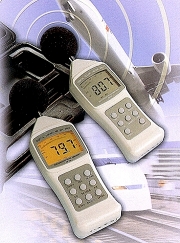 AZ8921 & 8922 AT A GLANCE
-DIGITAL DISPLAY WITH ANALOG GRAPH
-BACKGROUND NOISE ABSORBER
-MAX / MIN RECORD, MAX HOLD
-RS232 INTERFACE
-MEETS IEC 651, TYPE 2 CLASS

FEATURE
-Meets IEC 651;ANSI S1.4, type2 standard.
-Quasi-Analog bar indicator:1dB display steps, 50dB display range, updated every 50ms.
-Measurement level range features 6 ranges.
-Background noise absorber mode filters ambient sounds.
-Fast( 125 msec.) or Slow( 1 sec.) response 3 times.
-Record Max / Min. & Maximum Hold function.
-A / C Weighting selectionable.
-Microphone : 6mm(Dia.)electric condenser type.
-Backlight for use in dark areas (Model 8922).
-Low battery indicator.
-Optional RS232 software (Disk & PC cable).
-Serial formt: 2400Baud rate, 1 Stop bit, 8 Data bits. N: xxx, xdB
-Monitor the sound levels from traffic noise, alarm systems and workplace machinery,
-Multi-Frequency calibration to ensure quality stable.

SPECIFICATION
-Auto range : 30-130dB.
-Big LCD : 42x64mm.
-Measurement level range : 6 ranges in 10-dB steps:30-80dB, 40-90dB, 50-100dB, 60-110dB, 70-120dB, 80-130dB.
-Accuracy : ¡À1.5dB ( under reference condition )
-Digital display : 3-1/2 dight LCD, 0.1dB resolution updated 0.5seconds.
-Analog output : AC:0.707vrms( at full scale ) DC:10mV/ dB
-Measurement frequency range : 31.5Hz-8KHz.
-Measurement level A weighting : 30dB~130dB.
-Measurement level C weighting : 35dB~130dB.
-Operation temperature : 0~50ºC,10~90%RH
-Storage temperature : -20~60ºC
-Meter includes hard ABS case, battery, manual.
-Battery life : 20 hours typical (9V)
-Dimensions (meter WxHxT) : 80 x 256 x 38mm